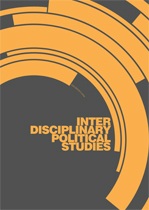 Aim and Scope
Inter-disciplinary Political Studies (IdPS) aims to pursue two goals: affirming the importance of rigorous, high-quality Open Access publishing in the field of Political Studies, without imposing article processing charges to authors, and opening the fields of comparative politics and international relations to the contribution of other related disciplines. It is open to scholars studying political issues through the lens of several social science disciplines such as political science, international relations, political theory, political economy, sociology, legal studies and contemporary history. Interdisciplinary analyses are particularly welcome.
It publishes two issues per year focusing on domestic and international politics.
IdPS considers the following types of submissions:
Research Articles, Research Notes, Review Essays and Book Reviews. It also hosts a special section - "Security and Praxis", that is particularly inspired by a critical epistemology and collects short articles shedding an eclectic light on topics dealing with the study of security.
Prospective guest editors are invited to submit special issues proposals.
IdPS exclusively accepts original manuscripts, which have not been published elsewhere or currently under review by another publisher.
All papers are subject to a rigorous process of double-blind peer-review.
This journal in published with the support of:
The Center for the study of Political Change (CIRCaP), of the University of Siena
The Department of Human and Social Sciences (DiSUS) of the "L'Orientale" University of Naples
The Institute of Law, Politics and Development (DIRPOLIS) of the Sant'Anna School of Advanced Studies
Editors: Alessandra Russo (Sciences Po Bordeaux) and Federico Russo (University of Salento)
Announcements
Call for Paper - Free to think, free to research: challenges to academic freedom in the context of contemporary global politics

Call for Papers for a Special Issue on:

Free to think, free to research: challenges to academic freedom in the context of contemporary global politics

Editors: Alessandra Russo & Federico Russo

- Submission of long abstracts (about 1,000 words): 15 FEBRUARY 2017

- Selection of long abstracts: 15 MARCH 2017

- Submission of articles: 15 JUNE 2017

- Provision of peer review feedback: 30 AUGUST 2017

- Submission of revised drafts: 15 OCTOBER 2017

- Publication of the issue: 15 NOVEMBER 2017

Posted: 2017-02-28
More...
Questo sito utilizza un cookie tecnico per consentire la corretta navigazione. Se vuoi saperne di più consulta l'
informativa estesa
.
This work is licensed under a Creative Commons Attribuzione - Non commerciale - Non opere derivate 3.0 Italia License.
e-ISSN: 2039-8573