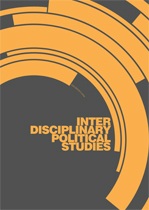 Aim and Scope
Interdisciplinary Political Studies (IdPS) aims to pursue two goals: affirming the importance of rigorous, high-quality Open Access publishing in the field of Political Studies, without imposing article processing charges to authors, and opening the fields of comparative politics and international relations to the contribution of other related disciplines. It is open to scholars studying political issues through the lens of several social science disciplines such as political science, international relations, political theory, political economy, sociology, legal studies and contemporary history. Interdisciplinary analyses are particularly welcome. It publishes two issues per year focusing on domestic and international politics.
IdPS considers the following types of submissions: Research Articles, Research Notes, Review Essays and Book Reviews. Prospective guest editors are invited to submit special issues proposals.
All papers are subject to a rigorous process of double-blind peer-review.
Indexing and abstracting
The list of indexing and abstracting services including IdPS is rapidly expanding. To date, our journal is covered by:
Directory of Open Access Journals (DOAJ); JournalTOCs; Quality Open Access Market (QOAM); Georgetown University Library; Google Scholar; Academic Journal Database; Open Access Journals Search Engine (OAJSE); Directory of Open Access Scholarly Resources (ROAD)
Announcements
Covid19 - Fast lane for early career researchers

The COVID-19 pandemic will have serious social and political consequences.

In the academic context, young scholars and early career researchers will probably pay the highest price. The disruption caused by the pandemic is delaying many editorial activities, including all in a day's work needed for processing and reviewing manuscripts.

 

At Interdisciplinary Political Studies we are fully aware that this is especially troublesome for our colleagues who are on the job market, and we want to do our part.

 

For that reason we have set up a "fast lane" for early career researchers to encourage their submissions and ensure them to get feedback and finalise the publication of a pending manuscript within reasonable times in such a challenging situation.

 

To achieve this goal we are launching an extraordinary Call for Reviewers, inviting senior scholars and colleagues holding permanent positions as well as academics who feel having the possibility to help and contribute to this collegial endeavour. Perspective reviewers: drop us a line if you are willing to help!

 

At the same time, perspective authors: do signal in case you are an early career researcher and your manuscript should be treated according to our "fast lane" protocol.

 

Our contact email is: editors.idps@gmail.com.

Posted: 2020-04-30
More...
Vol 6, No 1 (2020): 'Defending Memory': Exploring the Relationship Between Mnemonical In/Security and Crisis in Global Politics
Full version
Special Issue Introduction
Special Issue
Research Articles
Book Reviews
| | |
| --- | --- |
| Memory and Securitization in Contemporary Europe, edited by Vlad Strukov and Victor Apryshchenko (eds.). London: Palgrave Macmillan, 2018, pp. 284 | Details pdf |
| Priya Sara Mathews | 203-206 |
| | |
| --- | --- |
| Memory Laws, Memory Wars: The Politics of the Past in Eu-rope and Russia, by Nikolay Koposov. Cambridge: Cam-bridge University Press, 2018, pp. xvi+322 | Details pdf |
| Jennifer Ostojski | 207-211 |
| | |
| --- | --- |
| European Memory in Populism: Representations of Self and Other, by Chiara De Cesari and Ayhan Kaya (eds.). Oxon, New York: Routledge, 2020, pp.xviii+302 | Details pdf |
| George Kordas | 213-217 |
Questo sito utilizza un cookie tecnico per consentire la corretta navigazione. Se vuoi saperne di più consulta l'
informativa estesa
.
e-ISSN: 2039-8573